Hossein
Mortezaeian
Abkenar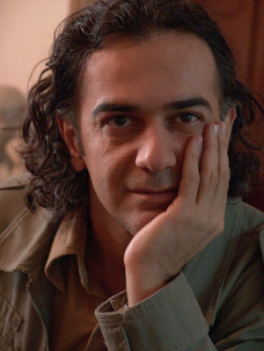 About Hossein
Hossein Mortezaeian Abkenar is an Iranian fiction writer and screenwriter. His 2006 novel, A Scorpion on the Steps of Andimeshk Railroad Station, received numerous awards and has been translated into multiple languages. Abkenar's short story collection,The French Perfume, won the Yalda Literature Award for the year's best short story collection in 2003. His screenplay No One Knows About
Persian Cats earned a prize at the 2009 Cannes Film Festival. His books are banned in Iran, where they have been stripped from bookstores and libraries.
Abkenar was a 2013-14 fellow at the Radcliffe Institute for Advanced Study and is now a City of Asylum Fellow at the Beverly Rogers, Carol C. Harter Black Mountain Institute at the University of Nevada Las Vegas. During these fellowship years, he has been working on his novel, Darkness. It covers three decades in Iran's history and takes a fresh look at Iranian society—particularly women's issues, revolution, the war, political and social crises, sexual discrimination, and sexual violence.